Nuclear Cattle
1 x 98'
A group of farmers from Fukushima's nuclear exclusion zone defy the government by keeping their radiation-affected cows alive.

more images
Synopsis
After 2011's Fukushima Daiichi nuclear power plant disaster, residents within a 20km radius of the facility were forced to evacuate their homes, leaving behind their livelihoods and possessions.
Nuclear Cattle follows six farmers who defied government orders to euthanize livestock and abandon the radiation zone. With no hope of economic return, they continued feeding their cows out of love, ultimately allowing researchers to conduct a pioneering study of the effects of radiation on large mammals.
As Japan comes to grips with its nuclear past, present and future, a rebellion full of heart in a small farming community trying to rebuild after catastrophe has led to some optimism but mostly heartbreak.
Trailer
Program Info
Title
Nuclear Cattle
被ばく牛と生きる
Duration
98 min.
98分
Location
Fukushima, Japan
福島
Language
Japanese + English subtitle
日本語+英語字幕
Production Format
HD
Genre
Nuclear disaster, Human documentary, Environment
ヒューマン・ドキュメンタリー、原発事故、環境問題
Director
Tamotsu Matsubara
松原 保
Production
Power-i Inc.
株式会社パワー・アイ
Production Year
2017
2017年
Awards

2016 Osaka Abeno Human Documentary Film Festival - Grand Prix
2016 Hollywood International Independent Documentary Awards - Award of Excellence

阿倍野ヒューマンドキュメンタリー映画祭(2016年)最優秀賞
ハリウッド国際インディペンデンス・ドキュメンタリー・アワード(2016年)外国映画長編部門優秀賞&初監督作品優秀賞

Film Festivals

Kuala Lumpur Independent Film Festival 2017
International Uranium Film Festival Berlin 2017
YAMAGATA International Documentary Film Festival 2017
Fukushima Film and Media Festival 2017

クアラルンプール インディペンデント ドキュメンタリー映画祭 招待上映(2017年12月)
国際ウラニウム映画祭in ベルリン 招待上映(2017年10月)
山形国際ドキュメンタリー映画祭(2017年10月)
福島映画祭 招待上映(2017年9月)

Copyright
©2017 Power-I, Inc.
Rights
Worldwide
About this film
After the nuclear catastrophe, an area within 14 miles of Fukushima Dai-ichi nuclear power plant was designated as a No-entry zone. The Japanese government notified each prefecture that all cattle in the area should be slaughtered, so that meat contaminated by radiation could not be distributed. Most ranchers couldn't help but obey this national policy, as they were forced to evacuate the area and couldn't make any predictions about the future.
However, a small group of cattle ranchers refused to accept this government mandate, and regardless of their own safety, have continued to feed their cattle. One rancher still lives in the banned area, another travels from temporary housing 50 miles away once every two days. Meanwhile, a combined team from universities started to monitor the health damage of these exposed cows. The study is the world's first low-dose radiation exposure of large animals. However, in a country in which national policy seeks to erase the scars of this terrible disaster, the government refuses to cooperate with the university team, even though their ground-breaking research might well be vital to mankind.
In the year following the accident, unknown white spots began to emerge on exposed cows. One rancher, suspecting these spots are a mutation arising for radiation, risked arrest by bringing one of these animals to the central government agencies in Tokyo. Ranchers that refused to slaughter their animals eventually came to be bothersome to the government. But over time, some of them also give up completely. It is a heart breaking story about ranchers who lost their land and livelihood, and yet continued to feed animals of no economic value.
Director's Statement: To be wealthy is just one of the ways of being happy!
We want to tell you chagrins of cattle ranchers in Fukushima.
The area around Fukushima Dai-ichi nuclear power plant is steeped in rich Japanese culture. One example is a samurai festival called "Soma Nomaoi," that has been run for over 1,000 years. Like the samurai, cattle ranchers don't want to take lives for no reason. They feel grateful towards their cows, as they give their lives for us. But they don't want to slaughter them just because the cows came to have no monetary value. Their contamination by radiation should be studied, making their lives valuable to science.
Ranchers who fight against the state, hang no-nukes flags, or try to guard contaminated land for their children… Ranchers who wish to make the exposed cows serve mankind's purpose… Even the government, that tries to protect consumers, and the farmers that accepted the slaughter, each have good cause. Who, and what, is correct? I went to Fukushima to get an answer. As a result, neither the themes of the strongly political or of animal protection were enough: this grew into a documentary of the heart crying.
The meaning of existence for this movie is to ask a question to modern society, that tends to measure the whole of human life by affluence and economic growth. Nuclear plants were attracted to Fukushima prefecture because it didn't have big industry. It generated employment, and the lives of the inhabitants were improved. But, how was it conclusively?... We want you to come to realize the absurdity of people all over the world believing that affluence equals happiness and who place economic growth above anything else. True happiness is another dimension.
Director: Tamotsu MATSUBARA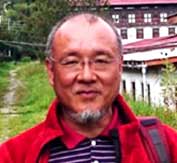 Producer and director Tamotsu Matsubara with 30 years Documentary and media experience is president of the company. Matsubara has been reporting on the situation in post-tsunami Fukushima since May 2011. He was particularly moved by the thousand-year-old Samurai festival "Soma Nomaoi." The invincible samurai spirit of the survivors and their struggle to pass on the legacy of their forefathers was captured in the documentary "Samurai of Fukushima," a joint production with the History Channel that was aired throughout Asia on New Year's Eve 2013.
He started filming Nuclear Cattle in 2011. This Documentary was a culmination of 5 years hard work. The aim was to film the farmers day-to-day trials and tribulations and follow them as they make the do-or-die decisions that will change their lives for good or bad forever.