Burung Berkicau (Songbird)
1 x 25'
Documentary Series "Children, Seize the Future!"
A series featuring children living in the diverse world of Asia, overcoming challenges to seize their future.

more images
Synopsis
Indonesians have a tradition of keeping birds in cages and enormous bird markets. Popular birds are those with a repertoire of beautiful songs, adding new momentum to the business both of trapping birds in the wild and training them to sing beautifully. One teenager is counting on the bird boom to build his future: sixteen-year-old Agok grew up in the jungles. This episode depicts Agok's personal growth as he struggles to build a life for himself in the industry.
Trailer
Program Info
Title
Burung Berkicau (Songbird)
鳥よ歌え 未来に向けて ~インドネシア~
Series Title
Colors of Asia 2017
カラーズ・オブ・アジア2017
Duration
25 min.
25分
Location
Indonesia
インドネシア
Language
English subtitle + Japanese subtitle
英語版(英語字幕)/日本版(日本語字幕)
Production Format
HD
HD
Genre
Human Interest / Children
ヒューマン・ドキュメンタリー / 子ども
Director
Wisnu Surya Pratama
ウィスヌ・スリャ・プラタマ
Producers
Nick Calpakdjian / Mark Olsen
ニック・カルパックジヤン / マーク・オルセン
Co-producers
Takeshi Sano / Ayumi Aso
佐野岳士 / 麻生歩
Productions
Two Islands Digital / Tokyo Video Center
Two Islands Digital / 東京ビデオセンター
Production Year
2017
2017年
Broadcast information

[NHK WORLD] July 2, 2018 (English Version) Inside Lens: Songbird
[NHK BS1] October 26, 2017 21:00- (Japanese Version) シリーズ・子どもたちの夢 第1回「Songbirdをつかまえて! ~インドネシア~」

Awards

Festival Film Indonesia 2017 - Best Short Documentary Nomination
Indonesia JAFF-Jogja NETPAC Asian Film Festival 2017, Selection for Competition
Indonesia BEKRAF Festival 2017, Selection for Screening
Pakistan International Film Festival 2018, Selection for Competition
Muscat International Film Festival 2018, Selection for Competition, Special Mention
Charlotte Asian Film Festival 2018, Selection for Screening
Singapore Big Eyes Big Minds International Children's Film Festival 2018, Selection for Screening
Olympia International Children's Film Festival -Official Selection
Borneo Environmental Film Festival 2018 -Official Screening
Thessaloniki Documentary Festival -Official Selection

Copyright
© PT Dua Pulau Digital / Tokyo Video Center
Rights
Except Indonesia
Directors' Statement
What I am seeking to explore in this film is a common problem that is faced by many Indonesian teenagers from poor families. It will explore how they need to support their family and often need to quit their education because they don't feel like they belong and are able to compete in the school. They are required to find alternative ways of learning skills. Learning from informal mentors is one of the ways to gain knowledge and life skills.
Agok is a representative of this type of protagonist. He quit school and now works hard to help support his family. He also realizes that he had to upgrade his skills to increase his earning capacity. He dreams of more. He meets Edi, the bird trainer and also a bird master. Edi organizes the singing bird competitions in his village on a regular basis. He is also concerned with sharing his ideas and knowledge with other people. Through this Singing Bird community Edi can earn a significant wage. He breeds particular birds that he can train and sell with a very good price. For instance, he recently sold a bird for approximately $2000 USD and used the money to purchase a car.
Agok will learn how to train birds from Edi. He will learn to train and care for the birds and take part in competitions.
The setting for this film is in a village of Banyuwangi named Kalibaru. Kalibaru is known for its vast coffee plantations. There are many hills and large trees, which is why it has become a good habitat for various kind of birds and a great setting for this documentary. It is also my hometown.
I want to put the beauty of the place directly in my frame. I want to show how in such a fertile and beautiful place there are some people that live in poverty and struggling to survive. But that they dream of much more… and are capable of achieving these dreams.
The catching and selling of birds is quite unique. It is also quite difficult and can be dangerous. Aguk has to climb tall trees without safety equipment. He has to take the sap of one particular tree in the forest and then place the sap in other high trees to trap the birds. I want to show the process in detail. It is unique and not something often filmed. But it is not purely process. I will use these unique activities to explore in intimate detail Agok's life.
Some of the interview in the film will be formal testimony but I will also employ direct testimony to camera while Agok and Edi carry out their activities. I want it to feel personal, natural and draw the audience into the characters and what they are doing. I will combine the interviews with observation style footage, especially when I want to show the position of Agok in his family. I don't want to intrude, but I want to capture the natural moments. See how he interacts with the rest of his family members, the dynamic. I will also use this style when he has to meet Edi and learn from him how to train the birds.
Banyuwangi is also known for its beautiful traditional music. I hope to utilize traditional Banyuwangi music to strengthen the visuals, as well as the message.
The film begins during the fasting month (Ramadan). In Indonesia the fasting month is crucial, not only religiously but also financially. Everyone is preparing to celebrate the end of Ramadan. The prices of most basic needs are rising and it is hard for a poor family. Though it is expensive to celebrate the end of Ramadan, most of people in Indonesia still insist to do it. They have to buy new clothes for the whole family. They will cook the best dishes for the family. They have to provide snacks for the families that visit. So almost all the people spend more at the end of Ramadan. Sometimes they spend all their savings. In extreme cases they get caught in debt. It happens also in Agok's family. They will spend much money and after the celebration they have to work harder to earn more money because their savings have been drained.
The first part of the film is about Agok and how hard he works to catch the birds and gives the money to his mom for celebrating the end of Ramadan. Then the celebration, all families gather, with new clothes, snacks, and kids are playing fire crackers. After the celebration Aguk and his family have to face the fact that they lost most of their money. In a way they also can get caught in debt. They have to find a way to get more money. Agok realizes that by training his birds he can add more values. He is asking Edi, a local bird master to teach him how to train the birds. Edi is willing to teach Agok. He is not only teaching Agok to train the birds but also to breed the birds. It is a passing of knowledge. It is an enabling of the next generation to achieve their dream.

Director: Wisnu Surya Pratama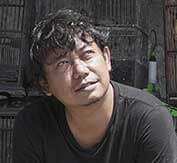 Wisnu Surya Pratama, born in Banyuwangi, East Java, Indonesia on the 3rd of May 1978. He is the first son of three children of Yoyok Waluyo (father) and Siti Kamsiyah (mother). His father is a rice and coffee farmer and his mother owns a grocery store in the village's market. He spent his childhood in Kalibaru, a small village in Banyuwangi, East Java. In 1996, at the age of 18, he moved to Jakarta to study Dutch Literature in Universitas Indonesia and finished his bachelor degree in 2001. He became a travel journalist, writing in tabloid, Indonesia Travel Tribune and a website Goindo.com until 2003. He wrote in a feminist journal, Jurnal Perempuan, as a freelance writer and researcher from 2003 to 2005. Meanwhile he also became one of the board of directors of Yayasan Konfiden, a NGO that regularly held Indonesian Independent Short Film Festivals from 1999 to 2008.
He began his career in the film industry as production assistant and assistant director in 2005 and continues working in the industry as a director and producer.
His works have screened at international film festivals in Pusan, Rotterdam and Hong Kong. He has held a long-standing role as production supervisor for Metro TV's popular Eagle Awards Documentary Competitions. Wisnu recently collaborated with Two Islands Digital on a short documentary for Channel News Asia.
Filmography
Kucing 9808, Chronicles of a (Former) Demonstrator (2008)
Director
Short Documentary
Produced by: Renjani Films, Payung Project
Logline: A biopic about student activist in 1998 and his transformation after 10 years of Indonesian reform. Part of an omnibus 9808: 10th years of Indonesian Reform
3LL4 (2011)
Director
Short Fiction
Produced by: Renjani Films and Babi Buta Films
Logline: Ella, a prostitute, has to go back to her hometown in East Java to celebrate Ied Mubarak. On the last night of Ramadhan, Ella has to face the reality that she out of money and has to work the night before she travels. Part of an omnibus Belkibolang, Anthology about Jakarta at Night.
Rock N Roll (2015)
Director, Writer
Short Fiction
Produced by: Tanakhir Films
Logline: The film is about the friendship of Indra and Asti. They try to bring back the memories of their relationship through the city of Jakarta, the traffic, the people and the food.
Producer: Nick Calpakdjian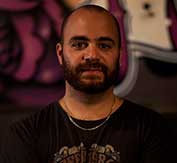 Nick Calpakdjian (DOB: 16/07/1980) is a producer living and working in Indonesia. He has been based in SE Asia for the last 7 years producing and directing a range of documentary, drama, online and television projects for regional broadcasters, cinema and Australian television. Most recently, Nick produced a number of short documentaries for Channel News Asia in Indonesia, Cambodia and India. His Cambodian project, "3D Hand Print" profiled a small start-up using 3D printing technology to produce prosthetic arms for Cambodian casualties of war.
In 2013 Nick co-produced and edited Timor Leste's first native language feature film "A Guerra Da Beatriz" (Beatriz's War). The film premiered at the Adelaide International Film Festival before competing and winning Best Film at the 44th annual India International Film Festival amongst other festival appearances. The film was screened at select cinemas in Australia as well as East Timor.
In 2016, Nick produced and directed the 1-hour documentary "The Muslim Tourist: Discovering Ise Shima" for NHK World and Kompas TV Indonesia. The film followed Indonesian identity Hamish Daud as he explored Ise Shima in the lead up to the 2016 G7 Summit.
As a filmmaker, Nick is interested in telling stories that uncover cultural nuances and reveal little known truths about people, places and moments in time. With a strong editorial background, Nick's films are well structured and creative. As an editor, Nick has worked on many hours of broadcast documentaries and television for ABC and SBS Australia, NHK World, Kompas TV, Channel News Asia, Channel 10 Perth, Lifestyle Channel, Foxtel and more. His strong editorial background gives him a great advantage when producing and directing content.
Examples of credits can be seen on IMDB here.