My Little Dancing Shoes
1 x 52'
Documentary Series "Children, Seize the Future!"
A series featuring children living in the diverse world of Asia, overcoming challenges to seize their future.

more images
Synopsis
Dancesport has been big in Cebu since the year 2000, and especially for kids from unprivileged families, becoming dancesport athletes means opening doors to their future. This documentary features kids training to win at world-class dance competitions, sharing tears and laughter while learning about survival, defeat and victory.
Trailer
Program Info
Title
My Little Dancing Shoes
私の小さなダンシングシューズ
Series Title
Colors of Asia 2018
カラーズ・オブ・アジア2018
Duration
52 min.
52分
Location
The Philippines
フィリピン
Language
English subtitle
英語版(英語字幕)
Production Format
HD
HD
Genre
Human Interest / Children
ヒューマン・ドキュメンタリー / 子ども
Director
Brazil Bryan Kritoffer JAO
ブアジル・ブライアン・クリストファー・ジャオ
Productions
Manila Montage Inc. / Documentary Japan
Manila Montage Inc. / 株式会社ドキュメンタリージャパン
Production Year
2018
2018年
Broadcast information

[NHK BS1] October 25, 2018 18:00- (Japanese Version) シリーズ・子どもたちの夢2018 第2回「私の小さなダンスシューズ・フィリピン」

Copyright
©Manila Montage Inc. / Documentary Japan, Inc.
Rights
Except The Philippines
Directors' Statement
In my country, children are considered the poorest sector of the society, they comprised the 40 percent of the entire population of the Philippines and some of them are living in abject poverty. The government keeps on saying that, a nation that has a growing economy must invest and provide the needs of the young people as they are the hope of the country but years had passed and their situation are still the same and their voices are still unheard.
In my homeland, the island of Cebu, Cebuanos are known for having great talents, we have the most number of great artist, the popular dancing inmates and we are also the Guinness title holder for having the largest dance class in the world. Undeniably, this is not just some sort of entertainment but this is a statement that passion is innate among us.
My vision as a filmmaker is to show to the world that Cebuano kids can go beyond the usual stereotyping of being poor, uneducated and victims of society. Through this film, we can empower them and at the very young age, they can define what success means. This other side of reality is I think worth telling and deserves to be shown in the world.
Director's Interview
Director: Bryan Kristoffer J. Brazil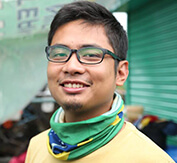 Bryan Brazil has been a TV director and producer fo a mainstream and one of the largest Philippine television companies for more than a decade now. He has produced and directed several documentaries for TV and film, some of them won awards in the New York Festival and Japan Prize International. His first independent documentary film, won the Best Documentary in Cultural Center of the Philippines' Gawad CCP ---the longest running independent film festival in Asia, and it became a finalist at Freedom Film Festival in Malaysia.
Producer: Antonio Lou Chua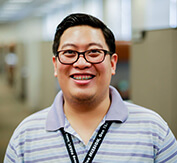 Antonio Lou Chua is on his 10th year of being a media practitioner. With his enthusiasm in creating more content and a vision of sharing more stories from his perspective, he has teamed up with his friends to co-found a media production outfit. He also started a film outfit with Bryan Kristoffer Brazil, ManilaMontage Inc., which is producing its very first project. This film outfit has already pitched in Tokyo Docs, winning the best pitch for Colors of Asia 2017.
Producer: Akiko Tabakotani
Growing up in Japan and the U.S., Akiko joined Documentary Japan,Inc. in 1997. She has produced and directed children's science programs and medical documentaries. Since 2008, she has been producing numerous travel and sports documentaries.