Smiling Woman of Banda
1 x 25'
Documentary Series "Women in Struggle, Paving the Way for Asia 2016"
A series featuring Asian women breaking new ground in contemporary Asia and making progressive changes in their respective societies,despite conventions and taboos that narrow their choices.
more images
Synopsis
Collecting and carrying water are women's responsibilities in rural India. The long walks to gather and transport water can take up to six trips, fifteen liters a trip, ten miles a day. As gathering water is essential to daily life, 40-year-old Raj Kumari has successfully formed a group of female mechanics who learned how to install and repair water pumps. As female mechanics gain more respect in the village, could this lead to gradual change in India's deeply-rooted caste system?
Trailer
Program Info
Title
Smiling Woman of Banda
井戸で稼ぐ女たち~インド
Series Title
Colors of Asia 2016
カラーズ・オブ・アジア2016
Duration
25 min.
25分
Location
India
インド
Language
English subtitle + Japanese subtitle
英語版(英語字幕)/日本版(日本語字幕)
Production Format
HD
HD
Genre
Human Interest / Gender
ヒューマン・ドキュメンタリー / ジェンダー
Director
Anjali Bhushan
アンジャリ・ブーシャン
Producers
Anjali Bhushan / Kaori Mayama
アンジャリ・ブーシャン / 眞山 香織
Productions
Apricot Sky Entertainment Private Limited / Far Eastern TV Entertainment, Inc.
Apricot Sky Entertainment Private Limited / 極東電視台
Production Year
2016
2016年
Broadcast information
Copyright
©Apricot Sky Entertainment Private Limited / Far Eastern TV Entertainment, Inc.
Rights
Except India
Treatment
The women of Banda are mechanics who tell great stories.
For them greatness is not a consideration. Survival is. A series of interviews in first person narrative and a dramatic re creation of how it all started makes for this documentary.
We will interview Raj Kumari, Avdesh, Maya and some other women hand pump mechanics and follow them home to meet the families to hear how it all started and how it all changed their lives.
We will also follow Raj Kumari, and see her in action, as she takes apart the hand pump only to reassemble it to work it better, all in a days job.
An interview with Madhavi Kukreja will give us the past present and future of Vanangana, the NGO that supports the efforts. The recreations of the most dramatic incidents from the lives and journey of the women of Banda, will be enacted by local theatre groups in local traditions, wherever relevant. What will be an interesting recording is the reactions of the women of Banda themselves as they get to reflect on their efforts, success and reality. The director also plan to use an ingenuine technique of putting a go pro in the hands of Raj Kumari. A woman who can learn to become a mechanic can surely work a camera. The changed gender dynamics of the village will be an interesting layer of this documentary as it will also show us the empowered Indian woman's view of rural life.
Director's Statement
In 1997 in a usual feminist conversation over dinner with my friends who work in NGOs I was given a rude awakening. Never assume that only the literate urban woman is subverting gender roles. Tribal, Dalit women on the border of Uttar Pradesh and Madhya Pradesh states in the heart of India shrug off traditional roles, trained as hand pump mechanics and masons as early as 1997.
The story intrigued me and haunted me for years. All the assumptions my gender sensitized literature books had taught me back at college did not cater for the Indian brand of rural feminism. This was no bra burning revolution mongering intellectual feminism. This was feminism born out of a practical need for an essential resource: Water. To me these women are real heroes. Why heroes? Heroines.
The women in rural India have always 'gathered'. The intelligence of which plants are poisonous, which are medicines, what to cook, resources for how to cook; women make for 99% of survival with meager resources in almost all rural households. And yet they are unaware of their own power. The urban woman is also unaware of her power. What is even more interesting is what women do once they become aware of their power.
The Woman of Banda is exemplary. She has broken all rules and benefited not only her own household but also others'. I believe this story needs to travel in India and globally to empower women to spread the self-knowledge that Raj Kumari now has. She is a real woman, a real game changer.
Director and Producer: Anjali Bhushan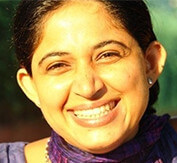 As a director and a writer, Anjali Bhushan focuses on bringing to screen films that inspire and provide hope. She wants to make films that rekindle and reactivate affirmative life values. She draws the best out of the world around her, exposing and bringing to light the beauty that lies hidden in the debris of human failings.
Anjali Bhushan has been associated with one of India's biggest record-breaking blockbusters "Kuch Kuch Hota Hai", in the capacity of Chief Assistant Director to Karan Johar. The film starred Shah Rukh Khan, Kajol & Rani Mukherjee; produced by the veteran Yash Johar.
Anjali has since written and worked on films like Aziz Mirza's "Kismet Konection" (Story Writer) which starred Shahid Kapur & Vidya Balan; a TIPS film called "Albela" (Screenplay Writer & Associate Director), starring Aishwarya Rai, Pankaj Kapur. Govinda & Jackie Shroff; and "Dharm" (Associate Director).
Anjali directed the popular Indian Idol 'Abhijeet Sawant' for a music video for his first solo album, released by Sony Music, and a documentary for Hunger Project to celebrate the work of women "Sarpanch's" as per the 73rd amendment of the Indian Constitution. She also worked on a PSBT documentary "Sita's Family" and a documentary on mining issues in Jharkhand. Her Master's project was the much lauded Jamia documentary "Joysticks & Buttons" on the mislead youth and their world of violent video games especially the Nintendo game 'street fighter'. She also Directed & Produced a corporate film for the Jindal's "First Light" to promote tourism in Assam; a corporate film for HCL, for Fulcrum and a corporate film to promote admissions in the IFT & SPACE.
Anjali started her career 15 years ago by directing and writing for TV. She has directed and line produced more than 60 episodes of three TV shows on Sony TV, EL TV, and Zee TV (Take5, People's Club & Namaste India). She has also been the Creative Director of some prestigious Indian daily fiction shows (Ayushman) and filmmaking & marketing companies like Cinevistaa(P) Ltd. and Frequency Entertainment (Socha Na Tha & Saade Saat Phere).
Anjali established the Institute of Film and Television (IFT), an under-graduation filmmaking school, and School of Performing Arts and Creative Education (SPACE) as the Dean with over 100 students on 2.5 acres of a sprawling campus with in-house studios and work labs in association with Northumbria University, Newcastle, UK.
She has also been Joint Secretary for Indian Independent Filmmakers worldwide, which is an organization of filmmakers to affect policy change in the I& B sector and to support, nurture and evolve the Indian Independent voice in Indian cinema. Ketan Mehta, Sudhir Mishra, Krishna Shah, Sriram Raghavan and Anurag Kashyap amongst others are the pillars of IIFW.
Anjali has often written as a guest columnist with DNA (on special issues), Hindustan Times, The Asian Age (Deccan Chronicle) and Mumbai Mirror. She wrote a daily diary of a filmmaker from Cannes in 2008 and 2013 and contributed articles in Mumbai Mirror in 2014.
A graduate with honors in English Literature from Gargi College (1993), Delhi University, Anjali went on to do a Masters degree in Mass Communication from MCRC (1995), Jamia University, where she excelled in filmmaking while also harnessing her skills as a cinematographer (video and 16mm), editor, sound-recordist and photographer. She was a Radio Jockey for the FM channel of AIR.
Anjali has often worked with NGO's and has extensively traveled in India, collecting personal tales of the people of the land. She is currently working on her first international two-language feature film titled 'Amaan, The Edge of Paradise'. She is also working on a romantic comedy feature film (which she has written) entitled 'Happy Birthday'. The film has popular Bollywood talent like Javed Akhtar, Lalit Pundit, Irrfan Khan, Ravi K Chandran, Ravi Varman, Baylon Fonseca, Rakesh Ranjan, Deepti Naval and Victor Banerjee attached.
Anjali is also in the process of making a documentary on Bandra (Mumbai) on the subject of urban communities. She did camera and sound as well as co- directed a documentary tentatively titled 'The Bandra Project' with Aalika Mahindra.
She is producing and directing a documentary on an Indo-Polish subject, "MY HOME INDIA" together with Malgorzata Czausow in a co-production with Earl Grey, Poland. The film has distribution interest from Blue Dolphin Films (UK). The Executive Producer Joseph D'Morais has to his credit Oscar winning films like 'Tsotsi'. One of the DOPs on the film is the Oscar and Sundance winner Errol Webber (Music By Prudence; American Promise). For the Music under consideration is the Oscar Nominated Maciej Cieslak (Rabbit A La Berlin).
She has shot her directorial Bollywood debut feature film titled 'Lights Camera Action' starring Suniel Shetty, Ravi Kishan, Dalip Tahil amongst others, produced by Vikram Razdan and Ashok Kheny of AKK Entertainment Public Ltd.
Anjali has co-produced and co-directed with Leslee Udwin, (producer of East Is East and West Is West) a feature length documentary based on the Delhi Rape Case 2012, titled "INDIA'S DAUGHTER". The film, a 360degree perspective on violence against women in India and Rape and has already found commission with the BBC, UK. It has been voted No. 1 by a worldwide jury amongst 3000 entries from the world over in IDFA Forum's Secret Pitch. The film has been recently awarded the Gucci Tribecca Outreach grant and is in stages of final edit. Other broadcasters already on board are: Rai, DR, CBC and STV.
Anjali has been an international production and script consultant for a Bollywood film directed and produced by the Indian super star Ajay Devgn under his banner ADFfilms. She has been consulting to set up a 60 day-long schedule in Poland and been involved with all the pivotal production planning. In a new role currently she is consulting as Creative Producer with Ajay Devgn Ffilms on all the productions being undertaken by the banner.
Anjali is also developing a sales agency model with a Polish company to open Poland as a new market for Independent Indian content.
Producer: Kaori Mayama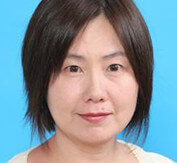 After working as a director of variety shows for Nippon Television Network Corporation, Mayama produced documentaries for TV Tokyo, etc. Her documentary work, "Beyond the Summit" received an ATP Documentary Award for Outstanding Achievement and was nominated for Asian Television Awards for Best Documentary Program in 2011. "To the Earth's Summit: One Step Higher," has been a special featured program for Okinawa International Film Festival. In 2012, she received Best Pitch Award at Sunny Side of the Doc held in La Rochelle, France, by "Rock'n Roll Farmer: You Waki." Recently, she has been working on co-productions with Singapore, Malaysia, Thailand, Mongolia, and Bangladesh.
Her most current projects include "Asian Chef", the story of a Mongolian chef's journey to Japan in search of the superfood Dattan, "Bonsai – Connecting the world", a four part documentary following the young bonsai artist Masashi Hirao on his quest to promote the art of bonsai, and "Smiling Woman of Banda", a co-production with Apricot Sky Entertainment about the brave women in rural India defying cultural norms and caste restrictions to become hand pump mechanics.
Staff
| | | |
| --- | --- | --- |
| Associate Director and Research Consultant | Amit Khullar | アミット・クラール |
| Editor | Abhishek Seth | - |
| Music | Sandesh Shandilya | サンデシュ・シャンディルヤ |
| Sound Engineer | Samiran Das | サミラン・ダス |
| Location Sound Recordist | Vishal Kumar | ヴィシャール・クマル |
| Director of Photography | Santosh Vasandi | サントシュ・バサンディ |
| Post Production | Industrywalas | - |
| Digital Colorist | Shakti Hasija | - |
| Production Assistance (Japan) | Stella Schlichting | - |
| Equipment Rental | Accord Equips | - |